2012 was a year we spent more time on the field than in the ring.  It was also the year that the 81st RRCUS National Specialty came to Orlando and Denise was the co-chair of the event.

BINDI:  On the field, Bindi was #25 in AKC coursing Ridgebacks and #20 in the AKC/ASFA combined coursing.  Wow!  We are proud.   

Finn:  Finn ran in the single stakes in 2012 and enjoyed continuing coursing.

Beau:  Beau enjoys being with his family and tagging along on adventures. 



We only went to this show on Sunday and Bindi was  Best of Opposite Sex.  Our next show might be in Orange Park in April.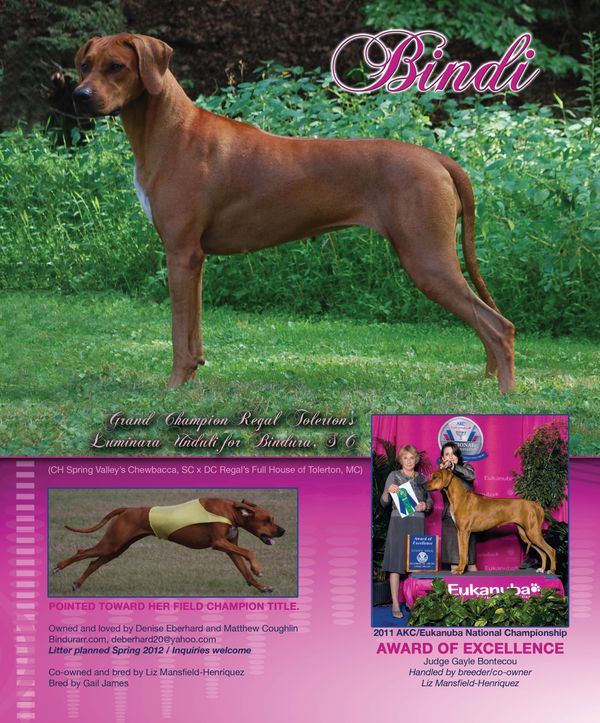 A LURE COURSING MAJOR FOR BINDI
Bindi got her first major in coursing on Saturday, April 28, 2012 at the AKC event held in Ocala, Florida.  She now has one major and 7 points total.  Bindi is also nearing her ASFA Field Champion title and needs 20 more points.  She has her 2 first placements and has nearly  always been in the points.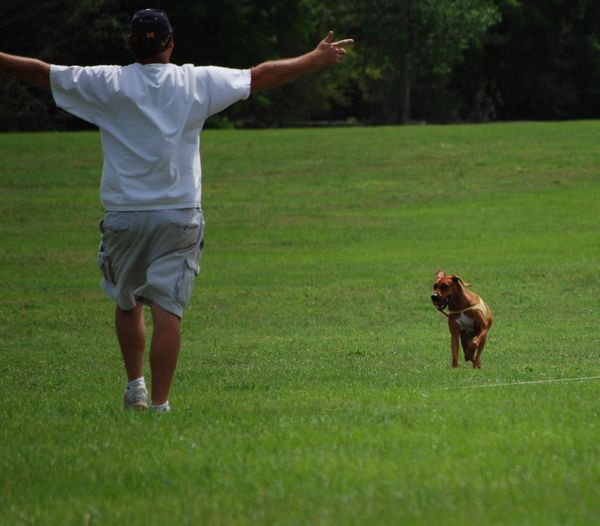 Another Coursing major for Bindi.


On May 12, 2012, Bindi added 2 more points toward her Field Champion title.  
On May 13, 2012, she cruised to a 4 point major when she won the Open class stakes.  Bindi now has 2 more points to get until she is an AKC Dual Champion.  Way to go girl.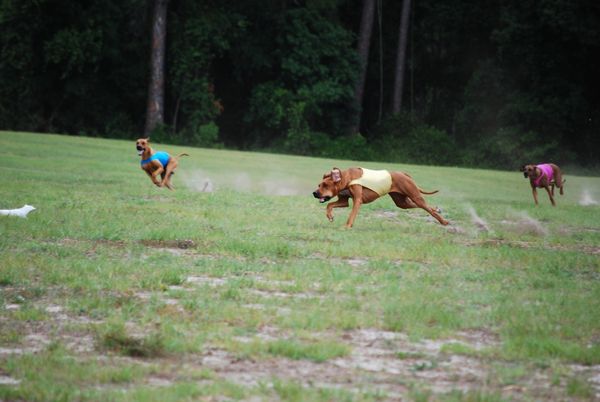 Finn courses in Single Stakes now and loves it.  He was first in the Singles this past week-end, showing he still knows how to get the bunny.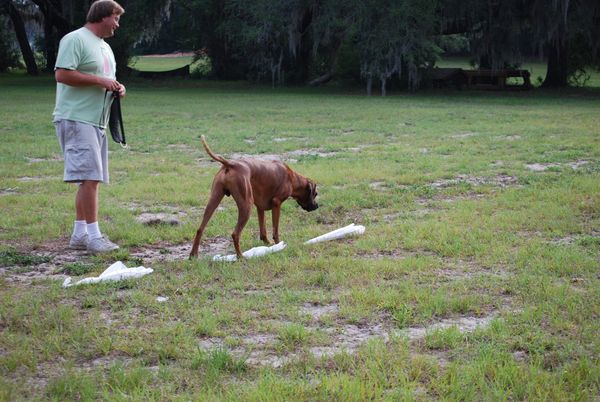 GANG Coursing in Calhoun, Georgia

We headed North to Calhoun, Georgia over Memorial week-end for some ASFA coursing.  On Friday, Bindi earned her American Sighthoun Field Association Field Champion title.  Finn also got a first placement in the singles.    

The weather was
HOT, HOT, HOT
and even though we didn't do very well the rest of the week-end, we still had

FUN, FUN, FUN

with our Georgia friends.  

Our dogs will relax and take the summer off from coursing.  In the fall, Bindi will pursue her last 2 points for her AKC coursing title.  Once accomplished, we will resume ASFA coursing.  Finn will continue on in singles.



Bindi in yellow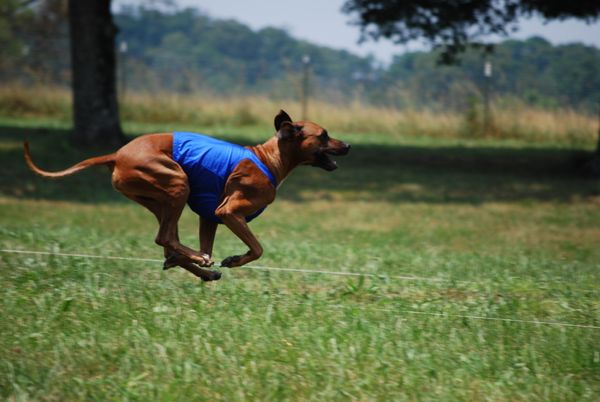 Finn runs after the bunny

 Jupiter-Tequesta Kennel Club
West Palm Beach, Fl

Bindi was Best of Breed on Saturday, July 14, 2012 at the Jupiter-Tequesta Kennel Club Dog Show under Judge Douglas Johnson.  Judge Douglas Johnson gave Bindi her very first Best of Breed win 2 years ago at the Orlando Cluster when she was just 15 months old.  He found her once again in 2012 and awarded her Best of Breed over some top ranked specials.  This is the first time back in the ring for her since early April.  Good job, girl.

Bindi was Best of Opposite on Sunday.