ROONEY X HUNTER 2020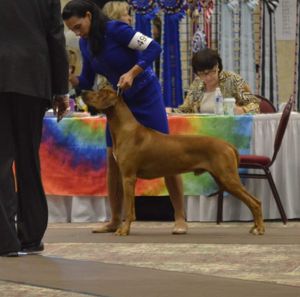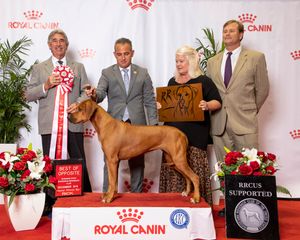 This page is dedicated to the litter Rooney will have with Hunter
ALL PUPPIES HAVE HOMES
Hunter is CH Radiant Ridge 'N Regal's Into the Woods, JC, CGC.  Rooney is GCHS Bindura's Breaker of Chains, SC.  Both are in standard Ridgebacks and of excellent health and disposition.  
No puppies will be flown to their new homes.  All must be picked up by their new owners.  You can fly in and fly out, but the puppy MUST be in the cabin with you.    This is in part due to the time of year the pups will go home.  It's HOT in Florida and just not safe to fly the puppies in the cargo.  Plus.  I don't like to fly them in the gargo hold.  Would YOU want to fly in Cargo?
I will Register the Puppies with the AKC.  This ensures that they all get registered.  I will pick their registered names.  It is cheaper for me to do it than for the new owners.  
All of the puppies have left for their new homes and are living wth their wonderful families. 
*************************************************
THE BASICS
Pedigree                                   Health                       Temperament. 
All are important.  Rooney has a wonderful temperament as does Hunter.  Both parents have been health tested. We are expecting wonderful pets and exceptional show dogs.  
*******************************************************************************
Health testing
Hunter's Health Tests - his CHIC # is:  145085

Rooney's Health Test
Rooney is EOAD Clear  (Early Onset Adult Deafness)

Pedigrees
Hunter's Pedigree  (click on his name)                      Rooney's Pedigree
+++++++++++++++++++++
Exercise and your puppy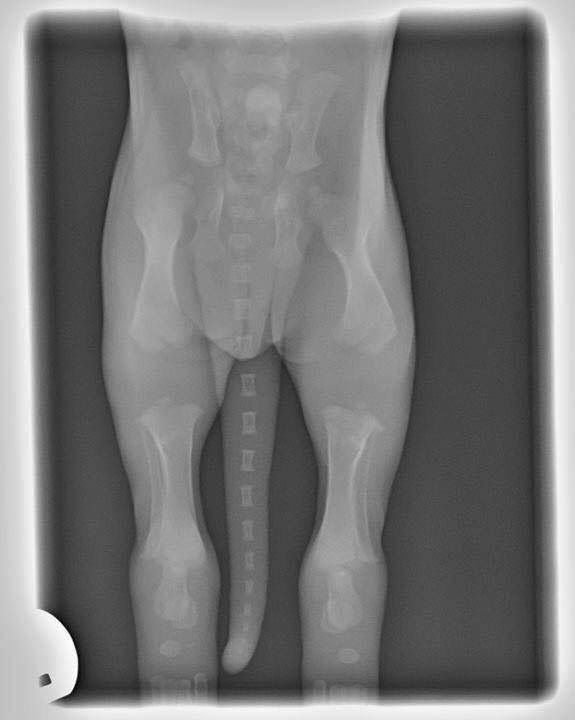 The photo above shows a pup's bones and how they are not closed and not together.  As the puppy ages, these bones move together to form the skeleton for the adult dog.  Until that time, it is very important that the puppy does not overdo it on exercise.  A puppy will never over do it on its own, it is always the owner that over does it with the pup and can cause painful and sometimes irreversible damage to joints and bones.  The growth plates do not close until the pup is nearly 2 years old.  Damage to those plates can occur with too much forced, repetitive exercise.  You may think your dog requires it and loves it when in fact, this is not true.  All a puppy needs is to play in their own back yard, at their own pace and nothing more.

Until your puppy is 18 months old (YES, 18 MONTHS) please no jogging with your puppy and NO biking your puppy. The repetitive motion is what causes the damage.  You can take your pup on slow, at the puppy's pace, walks once they are fully vaccinated, but remember, this is still a baby. You should not be going more than 10-15 minutes AT THE PUP'S PACE.   3 miles is too much for the puppy.  A normal romp in the back yard or with other dogs their age is great exercise.  Swimming is great exercise.  You should also not be doing any fun lure events until your pup is over a year old.  
++++++++++++++++++++++++++++++++++++++++++++++++++
VACCINES AND YOUR PUPPY
I have a Parvo survivor living in my house.  There is no worse disease for a puppy.  Your puppy should not be going to any dog parks, any other place where other dogs congregate or to any stores with you until they are 2 weeks past their 3rd vaccination.  You can wait until mid August to take your puppy out - it is not that long.  Other dogs should not visit your puppy or your house at this time.   
Your puppy will be vaccinated the Week of June 22, 2020.  They will need their 2nd vaccine 3 weeks later (July 13, 2020) and their 3rd set the week of August 3rd.  Their rabies can come at the end of August.
Your vet will likely want to over vaccinate your puppy.  Please do not let them do this.  They do not need leptospirosis unless you live in an area where this is common.  They also do not need their rabies vaccine with any other vaccine.  They should have this by 4 or 5 months and NOT given with thir DHPP.  
FOOD
Fetti is currently eating Nature's Logic kibble.  When she is a year old, she will be switched to a raw diet.
Photos of Hunter and Rooney