This page is dedicated to Bindi's litter with Mingus.
All of the puppies went to their new homes and are living with their new family 
 
Mingus
CH Ushamwari's Spring Valley's Trip Through Your Wires
Mingus was owner handled to his championship by his owner, Christen Fleming.  He now enjoys living the life with his best friend, Nala, and his family up in Pennsylvania.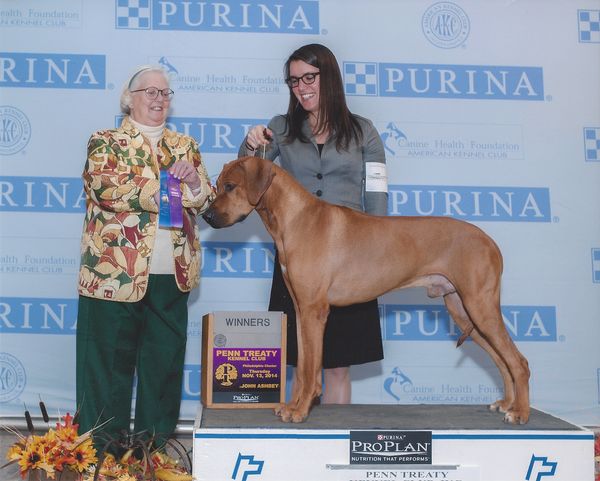 Mingus's health tests are on OFA and you can click here to see them:  
Mingus Health Tests
To see Mingus's pedigree, click here  
Mingus Pedigree


WHY MINGUS?

First and foremost, Mingus is a very balanced dog with a terrific temperament.

A peek at his pedigree tells it all.  Mingus's pedigree contains some of my favorite dogs.  

CH. Spring Valley's Great Gatsby
GCH DC Of Affrika Spring Valley's Dorian Gray
CH. Spring Valley's Absolut
CH Spring Valley's Merlin of Nashira
CH. Ushamwari's Nori Promiseland, JC
GCH Nashira Spring Valley's Read All About It
Along with some very prominent dogs that have contributed to the breed immensely.  I am excited to see what this breeding will produce.
Bindi
GCH DC Regal Tolerton's Luminara Unduli for Bindura, Fch, MC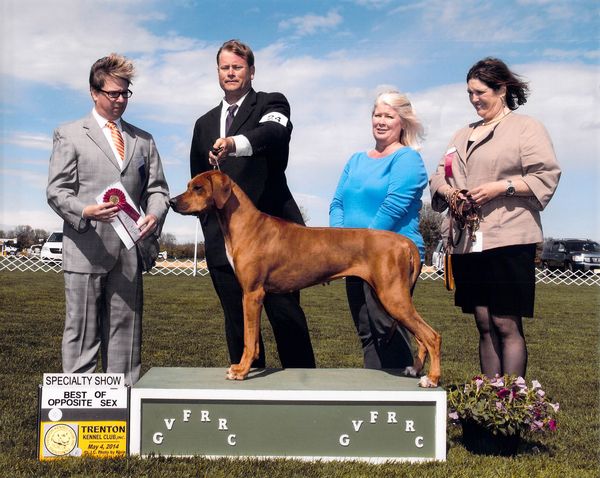 You can click here to go to Bindi's page and see her pedigree and her health certificates and her OFA page:
 Bindi's page
*****************************************************************************************
Photos of Mingus and Bindi
INFORMATION
 
I will add information for puppy owners here.  Food, vet visits, vaccine protocols, etc.
Puppies in their new Homes
Pups are ready for their new homes the week of August 1, 2016.  They will have their first puppy shots, wormed and microchipped, a vaccine protocol and your contract.  I will also register them with the AKC.

The vaccine protocol is very important.  Do not let your vet over vaccinate your puppy.   

When picking up your puppy, please bring a collar, leash and a bowl for water.  You will be given a health certificate, a bag of the puppy food they are being fed and a blanket that will smell like their mom, brothers and sisters.  You may want to have a crate for the puppy to be secured in when you are traveling home.  At home, you will want to have a crate, food bowls, toys that are puppy appropriate and a plan to integrate the puppy in to your home.  

Your puppy will have one set of shots.  He/She is NOT immunized completely and should NOT be taken anywhere until 2 weeks after the THIRD round of puppy shots.  This is very important.  No dog parks.  No pet stores.  No places where other dogs are at.  When you go to the vet for examinations, carry your puppy to and from the car and do not set them down on the floor at the vet's office.  

 
The pups will be weaned on to Earthborn Puppy Vantage.
It can be a little harder to find than your pet shop food, but it can be delivered right to your door by Chewy.com.  I chose this because I had good results with the first litter of pups, it is holistic, ingredients are sourced in the United States and there have been no recalls..  All puppies will go home with a 5 lb bag of this puppy food.  

**  I stopped puppy food on Rooney at 6 months of age.  She is now eating Earthborn Holistic Grain Free (non-chicken)  available on Chewy.com.  as well as at Pet Supermarket and some smaller pet shops
Supplements:
Your puppy should be given 500 mg of Vitamin C a day.   When looking for Vitamin C for your pup, look for the buffered C with no sugar added.  I used a powder for them as pups, but certainly you can use a capsule.  I give 500 mg per day.  

A supplement that I give to all of my dogs is Nature's Farmacy Dogzymes Phyto Flex and a Probiotic Max. 
ROONEY currently is supplemented with Vitamin C, Phyto Flex and Probiotic Max.

VACCINE PROTOCOL
 
Very important.  DO NOT LET YOUR VETERINARIAN OVER VACCINATE YOUR PUPPY.  Ridgebacks are sensitive to vaccines and it is important that your vet does not simply vaccine load your puppy.  I have attached the following protocol.  Please print it and take it to your vet when you go and make sure to stick to this protocol. An over vaccinated puppy can become very sick and can even die that is why several Ridgeback breeders have put together this protocol.  You will go home with this protocol and the dates of the first shots.  
VACCINE PROTOCOL
PUPPIES AND EXERCISE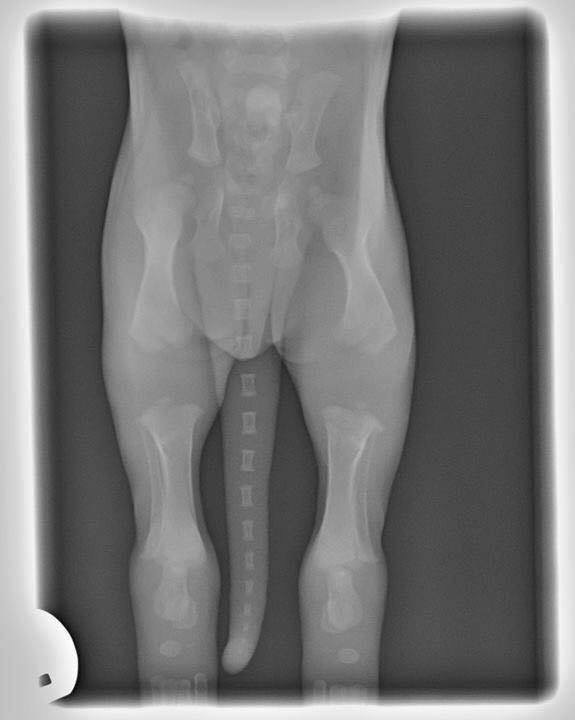 The photo above shows a pup's bones and now they are not closed and not together.  As the puppy age, these bones move together to form the skeleton for the adult dog.  Until that time, it is very important that the puppy does not overdo it on exercise.  A puppy will never over do it on its own, it is always the owner that over does it with the pup and can cause painful and sometimes irreversible damage to joints and bones.  The growth plates do not close until the pup is nearly 2 years old.  Damage to those plates can occur with too much forced exercise.  You may think your dog requires it and loves it when in fact, this is not true.  All a puppy needs is to play in their own back yard, at their own pace and nothing more.

Until your puppy is 18 months old (YES, 18 MONTHS) please no jogging with your puppy and NO biking your puppy. The repetitive motion is what causes the damage.  You can take your pup on slow, at the puppy's pace walks once they are fully vaccinated, but remember, this is still a baby. You should not be going more than 10-15 minutes AT THE PUP'S PACE.   3 miles is too much for the puppy.  A normal romp in the back yard or with other dogs their age is great exercise.  Swimming is great exercise.  You should also not be doing any fun lure events until your pup is over a year old.  
 
6/10/16:   The puppies arrive on 6/6/16.  All 17 of them. 9 boys (2 which are ridgeless) and 8 girls (2 are ridgeless) and all are healthy and thriving.  Bindi had one puppy right in the vet's office waiting for the c-section and the other 16 were born via c-section.  

6/11/16:  Dewclaws were removed

Potential puppy owners will need to come to Florida or meet in Fayetteville, North Carolina  where we are setting up a drop off point for those pups headed north.

6/28/16:  The pups were all wormed today.  They have been eating cereal/gruel for a few days and will slowly be transitioned to puppy food.  

7/5/16:  The pups have been moved to their new indoor pen in our living room.  They were a little nervous at first but are now loving the added room.  They are also playing with one another more and more.  4 short weeks until they start going to their new homes

7/12/16:  Puppies were wormed again to day.
The Puppies have arrived!!