It's hard to describe the look in the eyes of a dog that truly loves its owner.  That is how a Ridgeback looks at its owner.   Are they  for everyone?  No.  As an owner, you have to have the desire to be with your dog much of your free time.  These dogs want to be with their people and they almost grieve when they are not.  If you are looking for a yard dog, this is not the breed for you.  If you are looking for a dog that you can spend time with once in a while.  This is not the breed for you.  They require a lot of your time and a lot of your devotion.  That's not to say you can not have a life, just remember, their life DOES revolve around you!!

Ridgebacks are smart, almost to a fault.  They can also figure things out in a hurry and then exploit the situation to their advantage.  They also love to play.  And they play rough.  They like to run and jump at each other and get up on their hinde legs.  It can be very scary to someone that does not know how these dogs play.  And the noises they make?  Wow.  I have had people ask me if my dogs were fighting... no,  just playing.  Believe it or not, they do play best with one of their own kind. 

Smart, loyal, beautiful, fun, eager to please, and stubborn.  All of that seemd to attract us to the Rhodesian Ridgeback.  That's why we chose a Ridgeback.
It all began with Beau

What do you say about a dog that means everything in the world to you?  That is what Beau is to us.  He came in to our lives as an 8 week old puppy and totally enslaved us from that moment on.  His temperament is stellar (he received his CGC at 10 months of age).  His loyalty is unquestioned.    Beau comes to us from Crestridge Rhodesian Ridgebacks and he is everything we could have asked for in our first Ridgeback. Beau travels with us to shows and to the field to keep our tent and our belongings safe!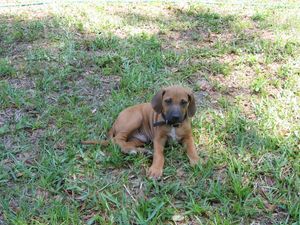 And then there were two
Along came Finn.  What can you say about the dog that loves you unconditionally and you love him back the same way?   Finn is my protector, yet for all his macho-ness, he is a total mushpot and a mommy's boy.  Finn came to us from Kengali Rhodesian Ridgebacks in Eustis, Florida.  Finn is now retired from the ring and he does enjoy  lure coursing and chasing the squirrels.   
Finn has since passed on and we miss him every single day.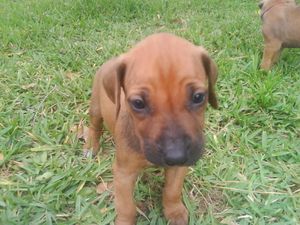 And now there are three
What a wonderful addition to the family she is.  Bindi is all attitude with a side order of cuteness and lovability.  She has instantly captured our hearts and worked her way right in to the family.  Bindi has fulfilled everything we desired in the ring and on the field.

Thanks to Gail James, of Regal Rhodesian Ridgebacks, and Liz Mansfield, of Tolerton Spring Valley, for this wonderful little girl.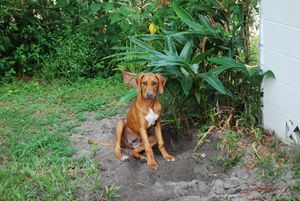 And number four has arrived ...
Meera has come home to Florida and is merging with the pack.  She is our light wheaten girl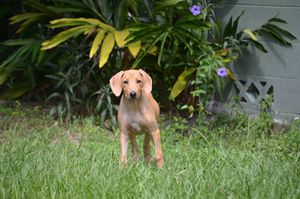 And now there are five...
Rooney was bred right here at Bindura Ridgebacks and is the hot pink girl from the 2016 Mingus x Bindi litter.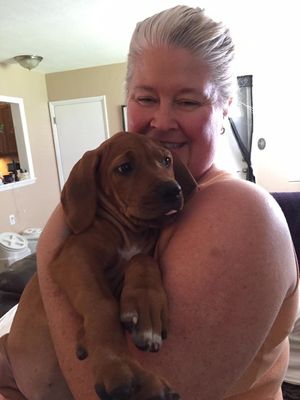 Our goals are simple.  We want to have fun with our dogs.  We enjoy spending time with them in the home, on the field and in the show ring - they are a major part of our lives.  We want all of our dogs to be healthy, happy and functional.  They are socialized by going to dog training school, going to places with other Ridgebacks and going to local dog friendly events.  Any chance we get, we take the dogs with us.  Obsessive?  No.  Just being a responsible dog owner.