GCHB DC Regal Tolerton's Luminara Unduli for Bindura, FCh, MC  
"Bindi"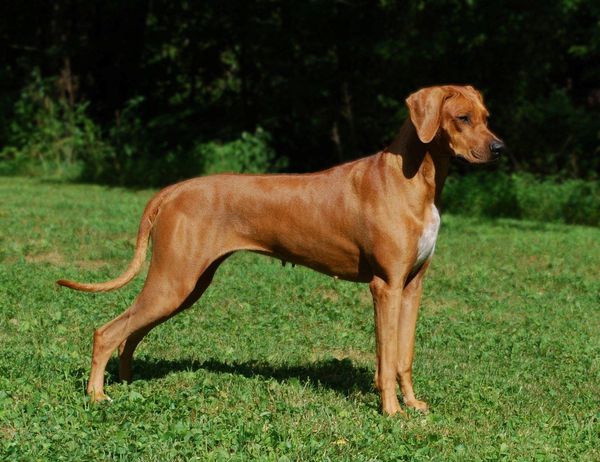 March 4, 2009 - May 30, 2019
Bindi comes to us from Regal Rhodesian Ridgebacks in Pennsylvania.  She was bred by Gail James, of Regal, and Liz Mansfield-Henriquez, of Tolerton Spring Valley Rhodesian Ridgebacks.
Bindi's first points came as a 5 point major Best of Breed win over ranked specials on June 25, 2010, followed by her 2nd 5 point major at a huge supported show in Atlanta at the end of August 2010.  We then singled her
out at smaller shows in Florida, finishing her the 2nd week-end of November 2010.  
Bindi left us at 10 years old.  Our hearts are left broken and we are looking for her all of the time.  Relieved that we have her daughter, Rooney, and adopted daughter, Meera, here with us to carry on her line.  We will forever miss her.



Bindi was awarded SELECT Bitch at the SSRRC 1st Regional Specialty on December 12, 2014.  Thank you Mr. David R. Miller.  The very next day, Bindi won her 2nd Award of Excellence.  Thank you judge Andrew H. Brace.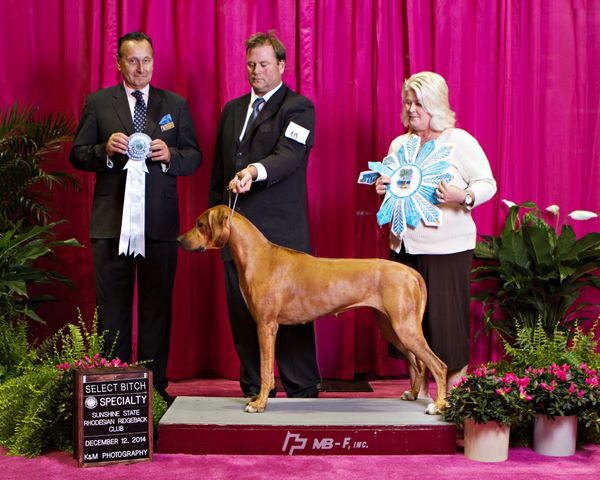 Greater Valley Forge Rhodesian Ridgeback Club's Regional Specialty in Trenton, NJ  In an entry of nearly 90 ridgebacks,  Bindi was Best of Opposite Sex to Best of Breed.  Thank you for this wonderful placement, Judge Johnson.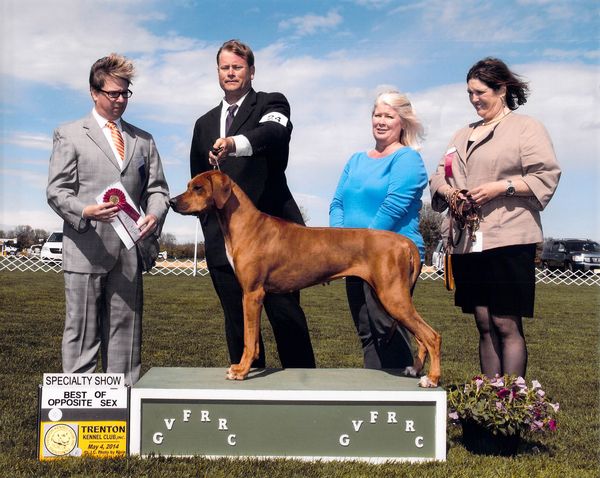 Bindi received an Award of Excellence at the 2011 Eukanuba Championship right here in Orlando.  There were 54 dogs entered and she was one of 7 picked out by the judge.  It was a perfect ending to a great year.
Click on the picture above and got directly to Bindi's pedigree on Post
Please click on the above picture to see Bindi''s Health clearances listed with OFA.
Bindi did have a pre-liminary thyroid test done and it was normal.  

EOAD:  High Confidence Clear
DM:  Clear