SSRRC REGIONAL SPECIALTY and
ROYAL CANIN NATIONAL CHAMPIONSHIP
December 15 - 16, 2017
The Bindura girls did great at the Specialty and Royal Canin
Rooney showed Thursday at the Central FL Kennel Club and was Select bitch in a lovely competitive group of Specials.  She made the cut in the Breed ring at the Specialty and at Royal Canin.  We are excited for this young girl's future.
Bindi showed at the SSRRC Specialty and was 2nd in the Veteran Sweeps and 3rd in the Regular Sweeps.  What matters more is that she had fun!
Meera showed only at Royal Canin and in a large Open bitch class, she was awarded 3rd place.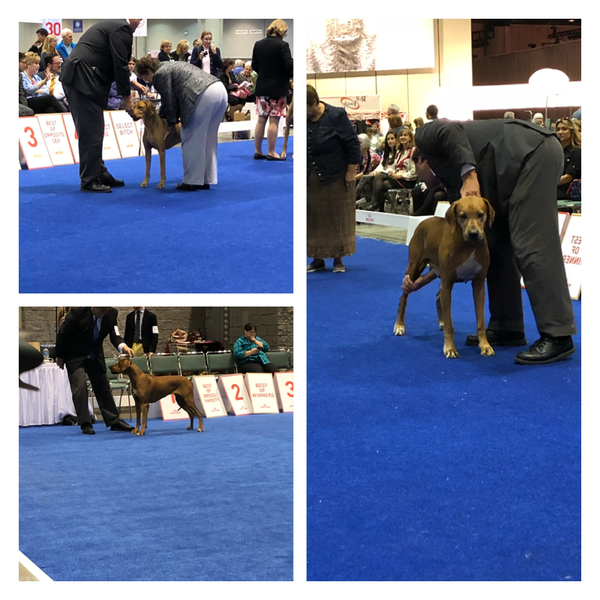 MS GULFPORT KENNEL CLUB
December 10 - 11, 2017
 Incredible week end.
On Saturday. Matt and Rooney were Owner Handled Best of Breed and then went on to win a Group One.  On Sunday, Matt and Rooney were Best Owner Handled in Show!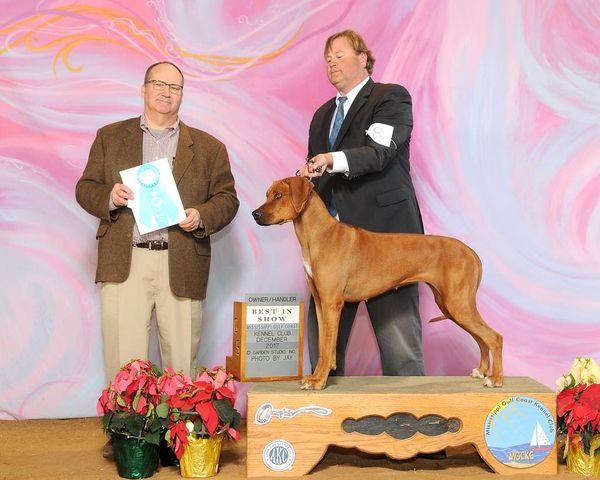 SSRRC AKC Coursing
October 14 & 15, 2017
Meera was Best of Breed BOTH days at the SSRRC AKC Lure Coursing event in Weirsdale, FL.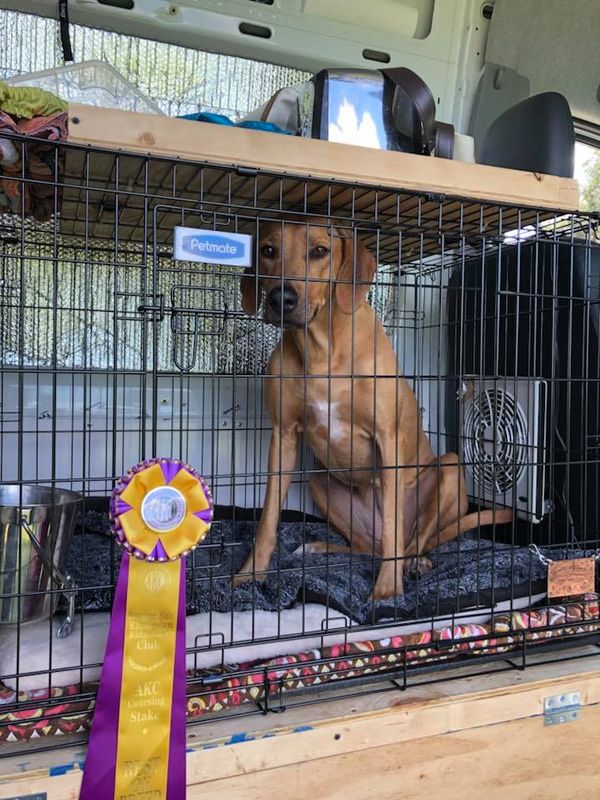 AND, Rooney (pictured below)  earned her Junior Courser title that same week end.  Sister Harper earned her JC, too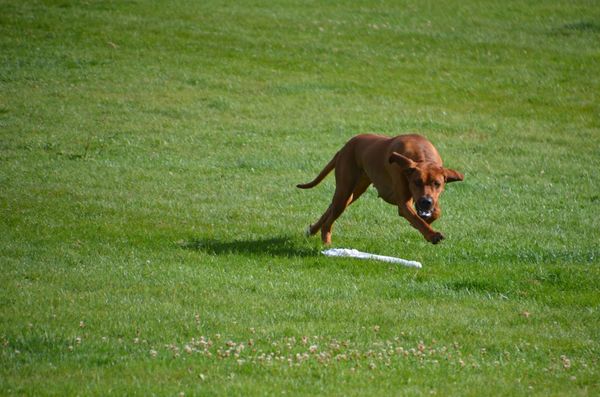 2017 NATIONAL SPECIALTY
Portland, OR
September 16-23, 2017
We had great fun driving across the country to Portland, OR.  Meera had a fantastic time at the Lure Coursing and placed 3rd in the Field Champion class..  SHe also made a big cut in the Open Bitch class and made it down to 10 in a class of 26.  So proud of her.  Rooney showed well, but did not make a cut.  She had fun on the beaches of California, Oregon, in the Redwoods and in the mountains of Idaho.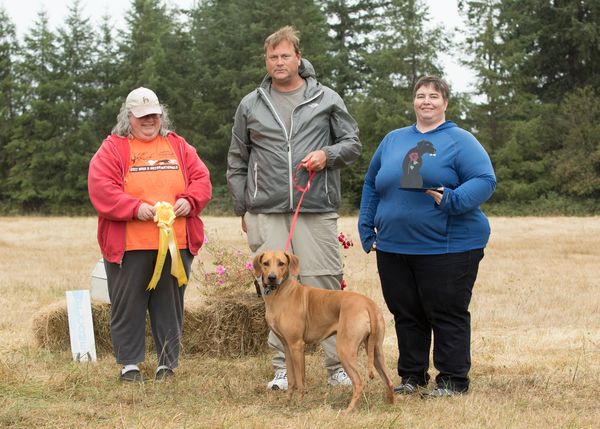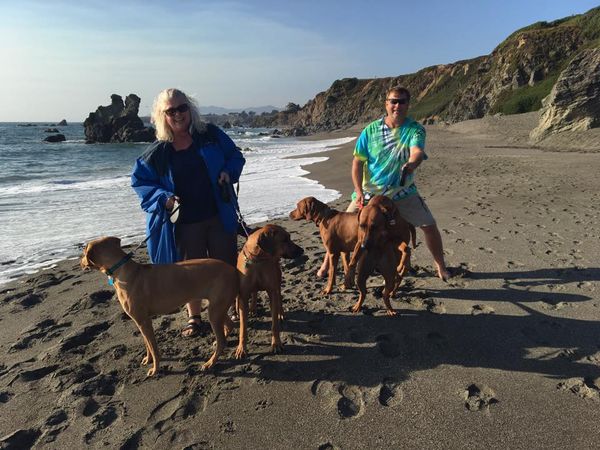 CAROLINA  AFGHAN HOUND CLUB AKC COURSING
June 10 & 11, 2017
Meera was Best of Breed both days running on the hills of "Big Pretty"  This will put her back in the #1 spot for AKC coursing for Ridgebacks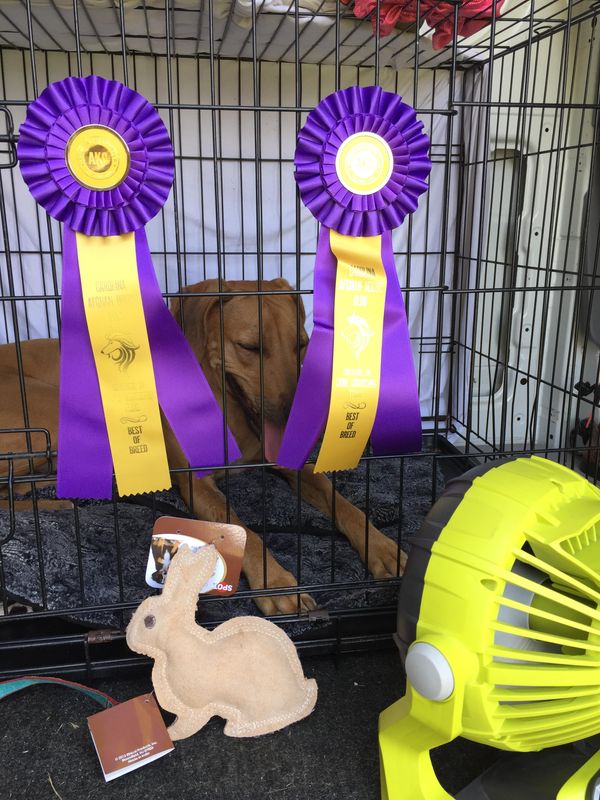 GREATER VALLEY FORGE RR CLUB AKC COURSING
SOMERSET, NJ
APRIL 15 & 16, 2017
We made it to Somerset, NJ after a 14 hour drive up from Perry.  Meera was 3rd in the Field Champions on Saturday and on Sunday, she stunned us all and won Best of Breed!! She also had an awesome Best in Field run!

Meera is currently the #1 AKC Ridgeback in Lure Coursing and another brag is that she is the fastest Ridgeback recorded at the FAST CAT going 28.10 mph.  A lor of power in that small package,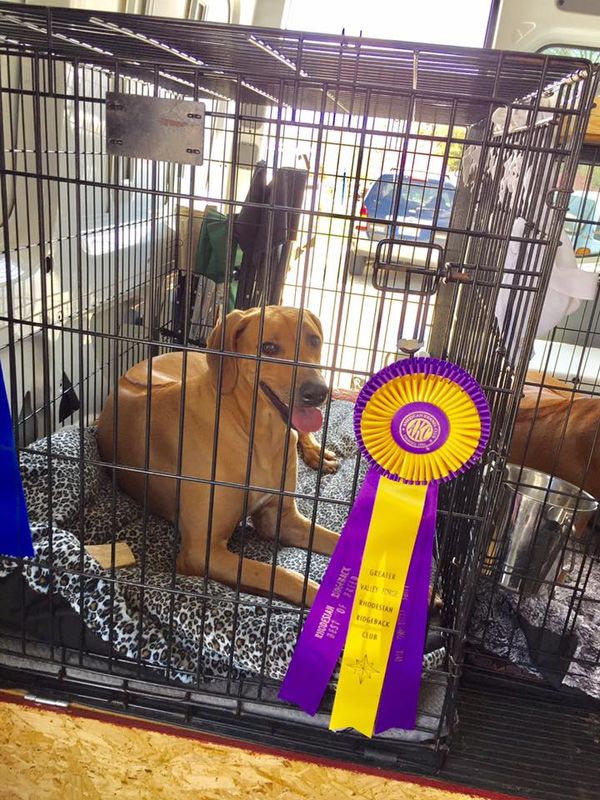 PERRY, GA Shows April 12, 13 and 14
We spent 3 days in Perry where Rooney earned her Grand Champion title at just over 10 months old.  We believe she is among the youngest GCH Ridgebacks - if not the youngest - to attain this title.  In Perry, Rooney was handled by good friend, Cassandra Carpenter because Matt could not make the shows.

On Wednesday, Rooney was Best of Opposite sex over some pretty darn nice bitches, including some that are  ranked in the Top 20 of the breed.  On Thursday, she was Select, again, over nice bitch competition.  On Friday, she was pulled with 2 other bitches, our of 7 Special bitches in the ring, and was considered for placement, but came up short.  Not to worry.  She made her mark.

We left Perry and headed north to Somerset New Jersey where Meera has some brags of her own.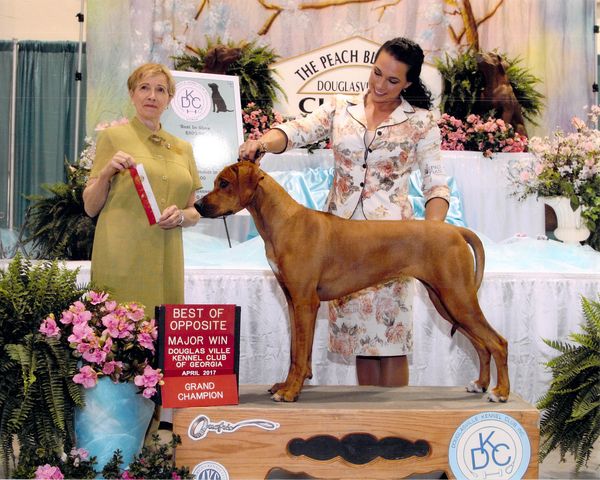 RUSSET HITS THE RING RUNNING
Great news from Edison, NJ. Russet (pink/yellow), Bindura's Song of Ice and Fire at Regal, was Winners Bitch and Best of Opposite over a special to earn a 4 point major in her debut week end.
Russet is owned by Gail James and handled by Mingus's owner, Christen Fleming.
Way to go, team!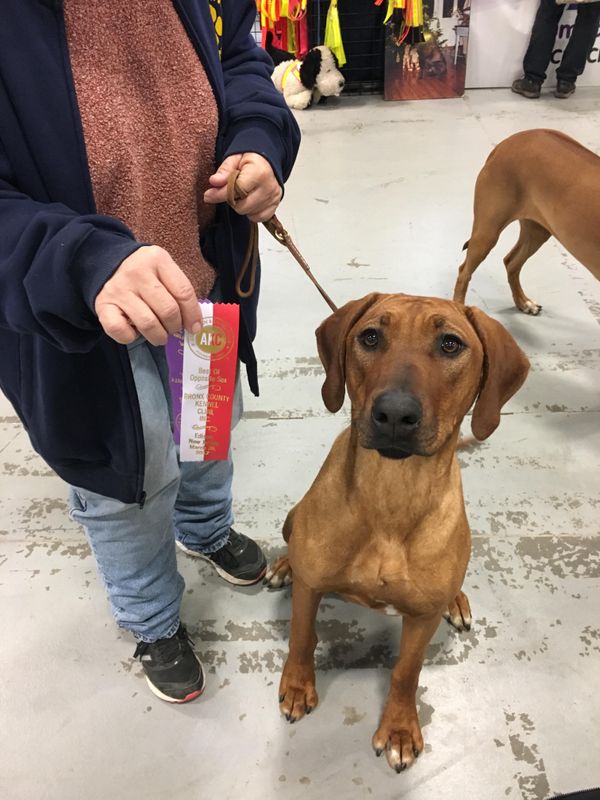 DAVIE, FL
March 25 & 26
Two shows in one day on Saturday!

Meera is Winners Bitch at the Davie pm show for 2 points. Expertly handled by Cassandra Carpenter.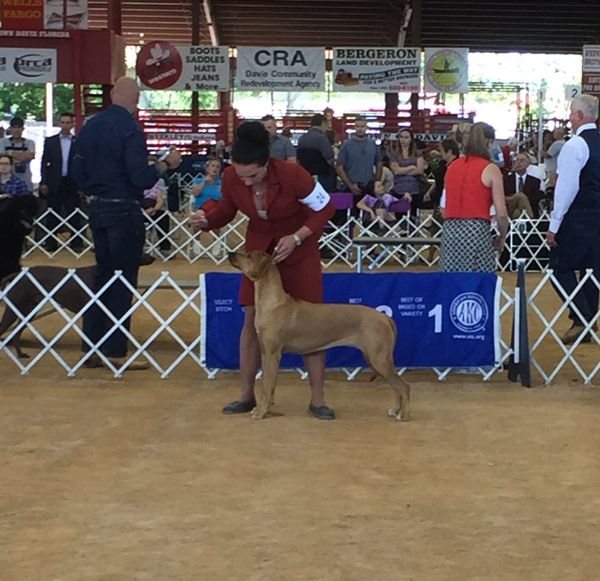 Rooney goes Best of Breed down in Davie at the Saturday am show and the Sunday show.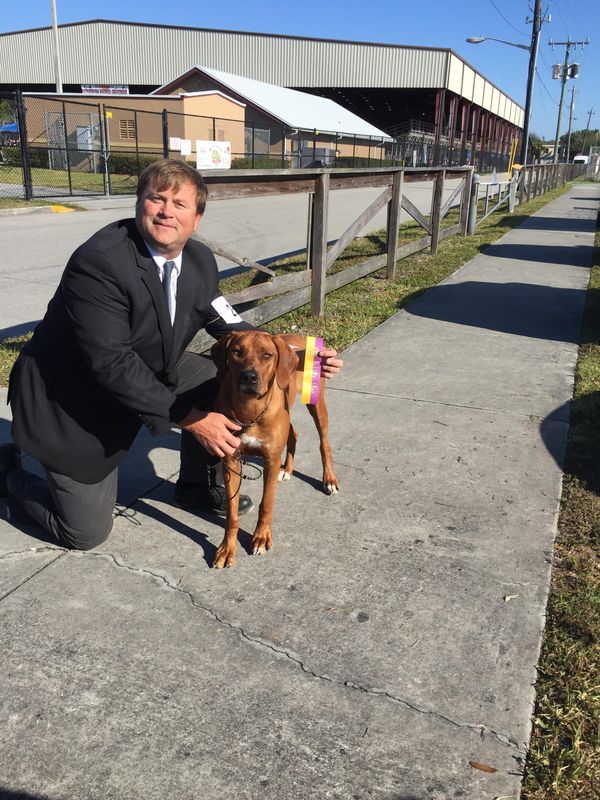 A BIG TEXAS WEEK END
March 5 & 5
 
Matt and I traveled to Florence, Texas to judge for the Alamo Area Whippet Club's coursing week end.  In the process, on Saturday, Meera was Best of Breed in a field of 12 Ridgebacks. Meera also earned her MC (Master Courser) title.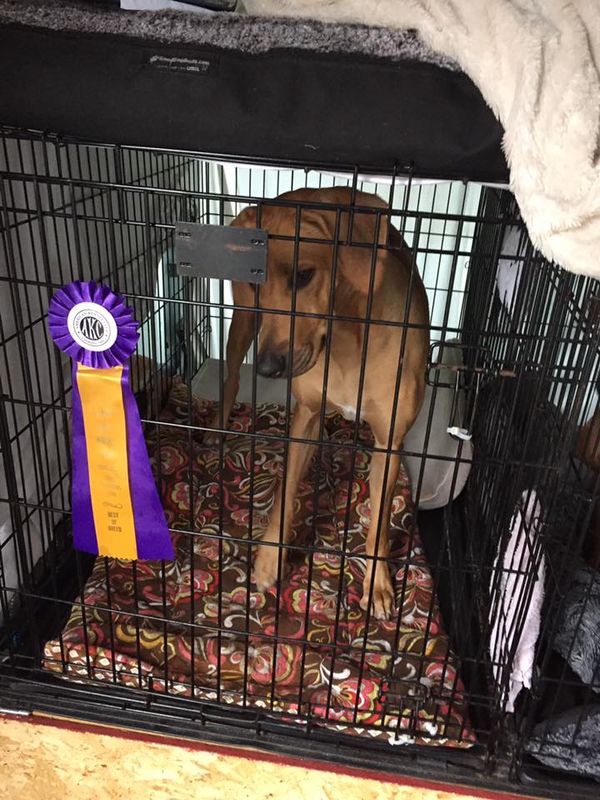 ROONEY IS A NEW AKC CHAMPION
 
At the tender age of 8 months and 2 weeks, Rooney earned her AKC Championship by going WB/BOW at the Lakeland show on Saturday under hound breeder, Pat Trotter.  This was Rooney's 5th major and she finished with all majors.  The next day, she was BOS/BOBOH for her first 4 Grand Champion points under Hound breeder, Patti Neale.  On MOnday, she added 2 more GCH points.