SUNSHINE STATE RHODESIAN RIDGEBACK CLUB
REGIONAL SPECIALTY
DECEMBER 17, 2021
Under Breeder Judge, Jeff Lentsch, Fetti was Best of Opposite Sex in a deep entry of lovely bitches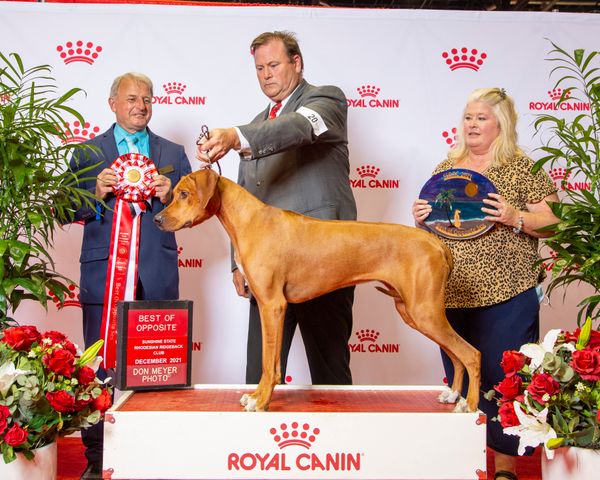 **************************************************
Sister, Deva, Bindura's The Stormborn at Crescent Ridge, was Winners Bitch/Best of Winners for a 5 point major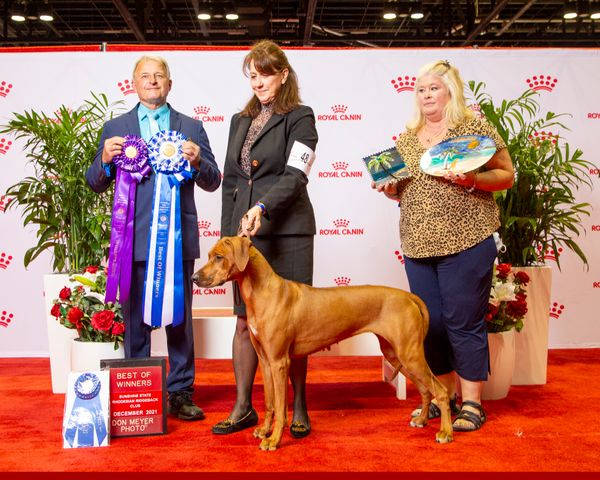 OCALA CLUSTER 
FIRST WEEK END
11/5/21 - 11/7/21
We only had Fetti entered but she did great  Reserve winners on Friday and then she was Winner's Bitch for a 4 point major on Sunday to complete her Championship!
CH BINDURA'S THE LAST DRAGON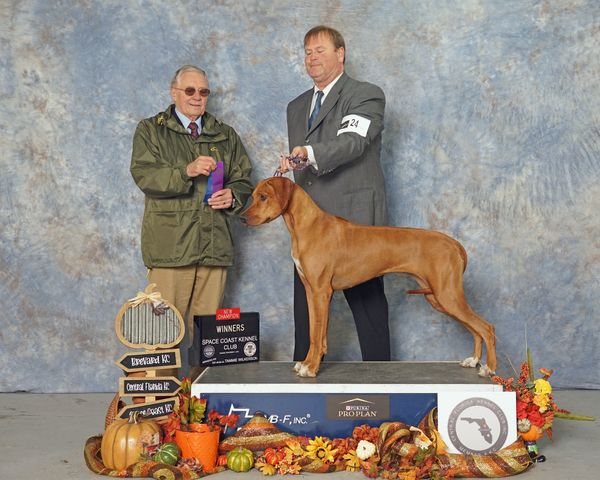 ALL THAT GLITTERS
2021 RRCUS NATIONAL SPECIALTY
MESQUITE, TEXAS
OCTOBER 9-17, 2021
We had a wonderful time at the 89th RRCUS National Specialty.
Fetti was 2nd in the Bred By Bitches Class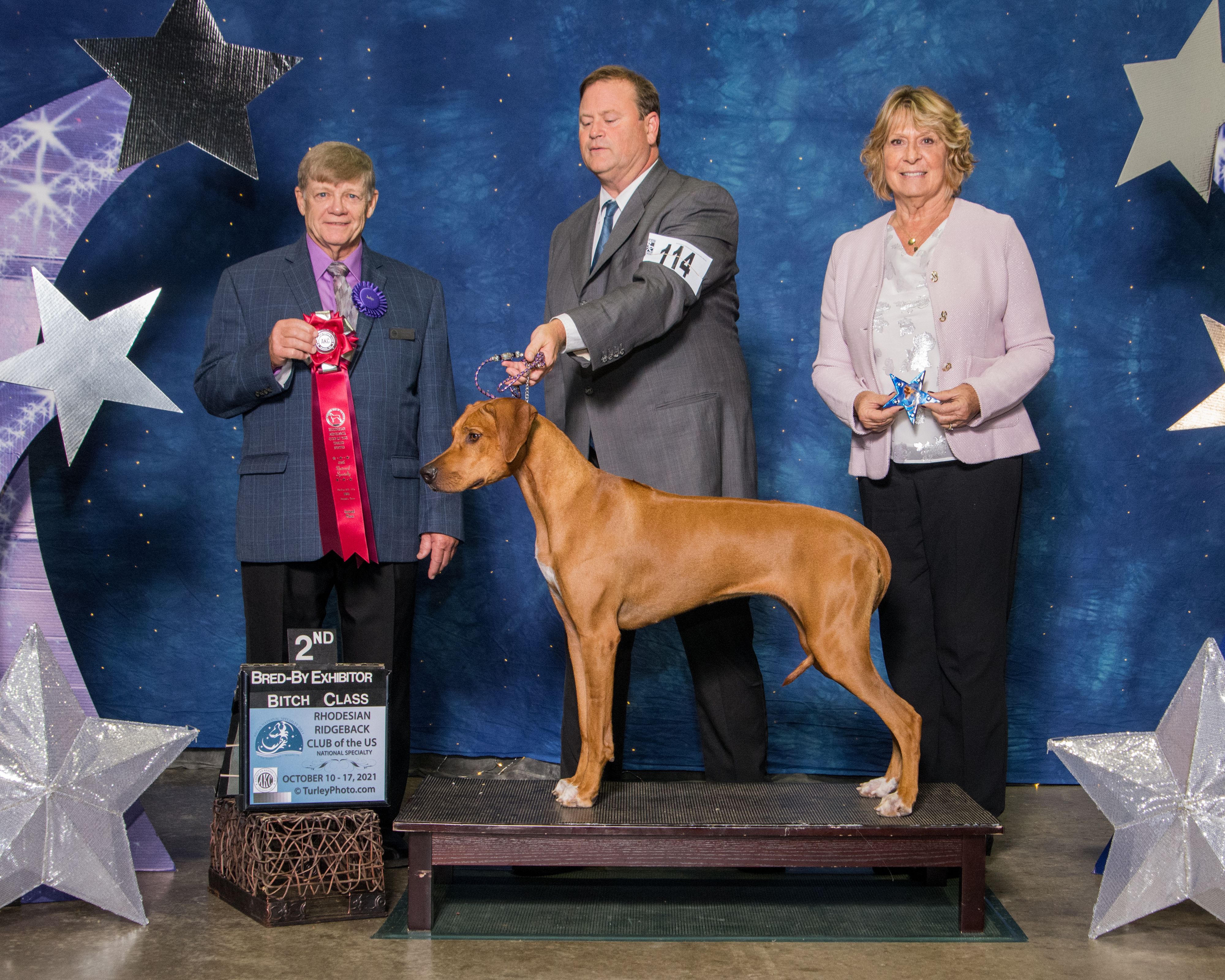 Rooney was shown in the Top 25 for 2019 and 2020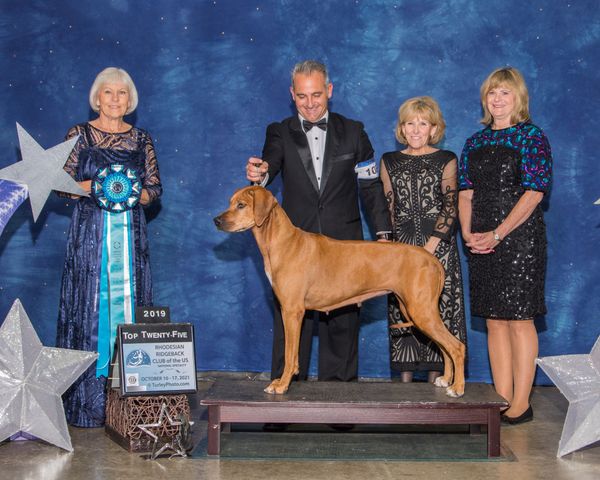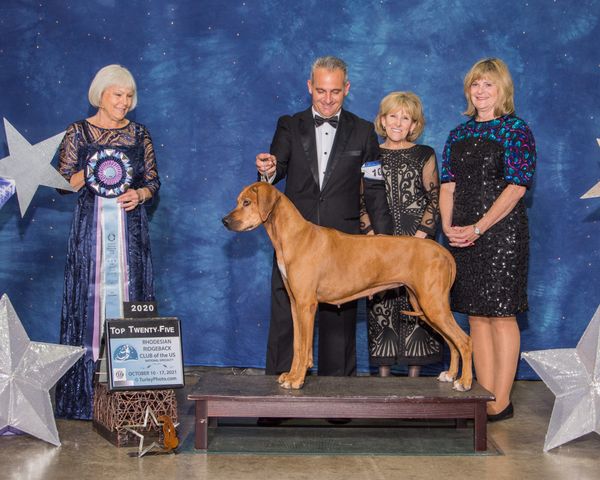 And on October 16, 2021, was awarded Best of Opposite Sex.  We are thrilled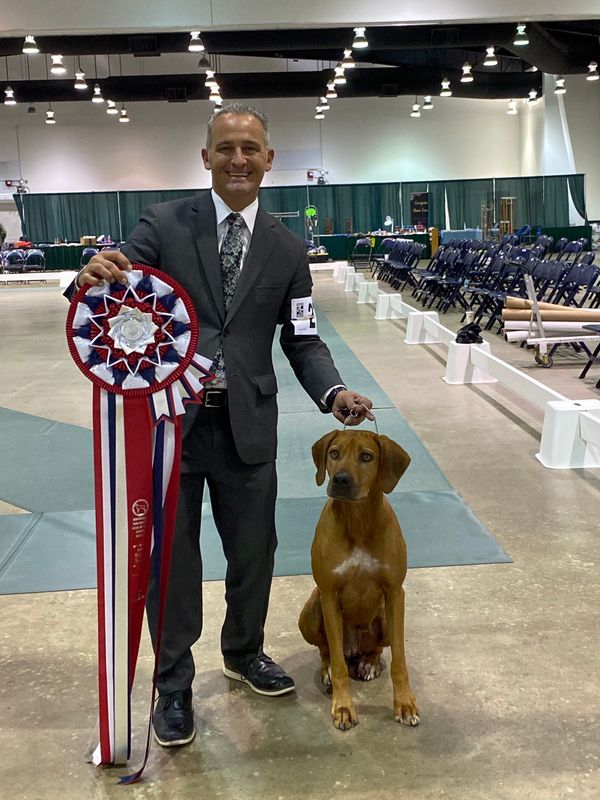 TAMPA, FLORIDA
August 11 - 15, 2021
Tampa, Florida was very good to us.  We showed Fetti 3 of the 5 days and she was Winner's Bitch all 3 days.  She now has 13 points to date.  Fetti will take time off and be shown next at the RRCUS National Specialty in October.
Rooney was Best of Opposite on wednesday, Best of Breed on Thursday, BOS on Friday and Saturday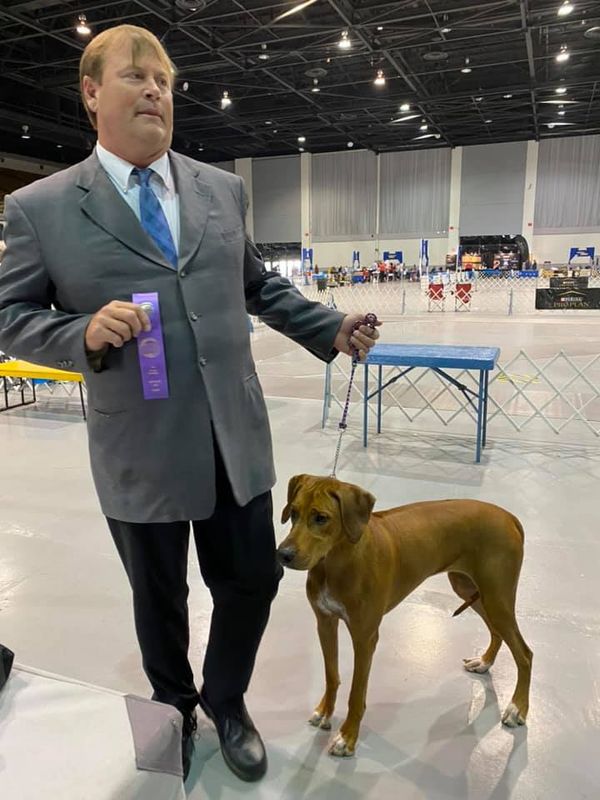 CANFIELD, OHIO
August 5, 6 and 7, 2021
On our way home from Michigan, we detoured to Canfield, Ohio for 3 days of shows
Thursday. August 5, 2021, Rooney was Best of Breed and Fetti was Winner's Bitch/Best of Winners for a 4 point major (her first)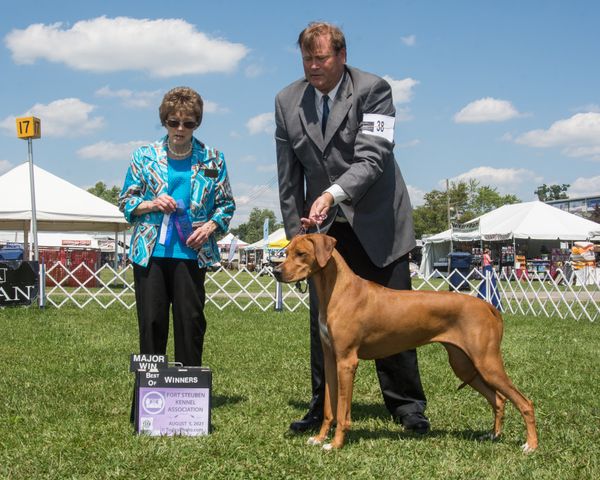 Meanwhile... Rooney became a GOLD Grand Champion while in Canfield
Jupiter-Tequesta Dog Club
July 16, 17 & 18, 2021
Rooney was Best of Breed Friday and Saturday.  SEL on Sunday.  She is 7 points from her Grand Champion Gold!
FETTI!!  Was Winner's Bitch Friday and Saturday and then Best of Breed (over her mama) on Sunday!!  Fetti now has 4 points!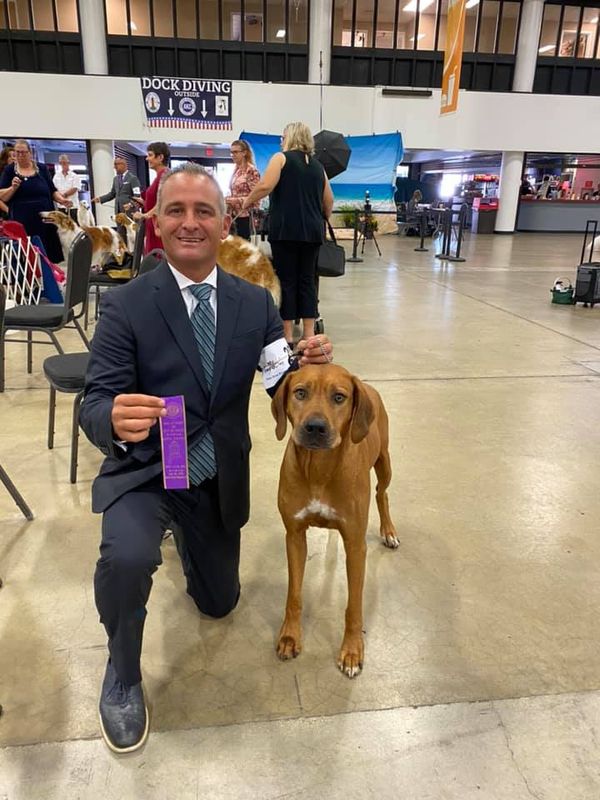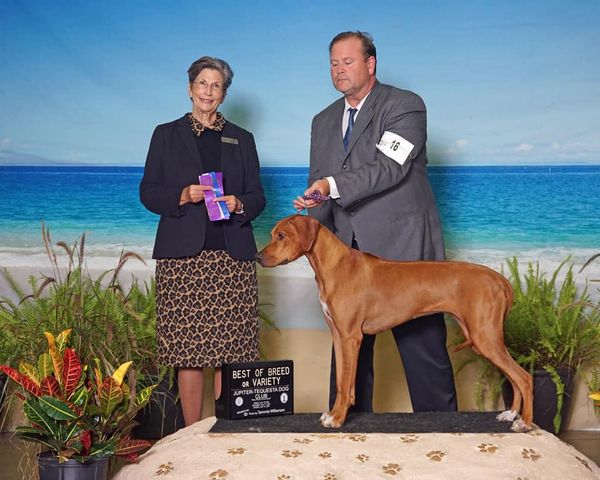 GREATER ORANGE PARK DOG CLUB
APRIL 10 & 11, 2021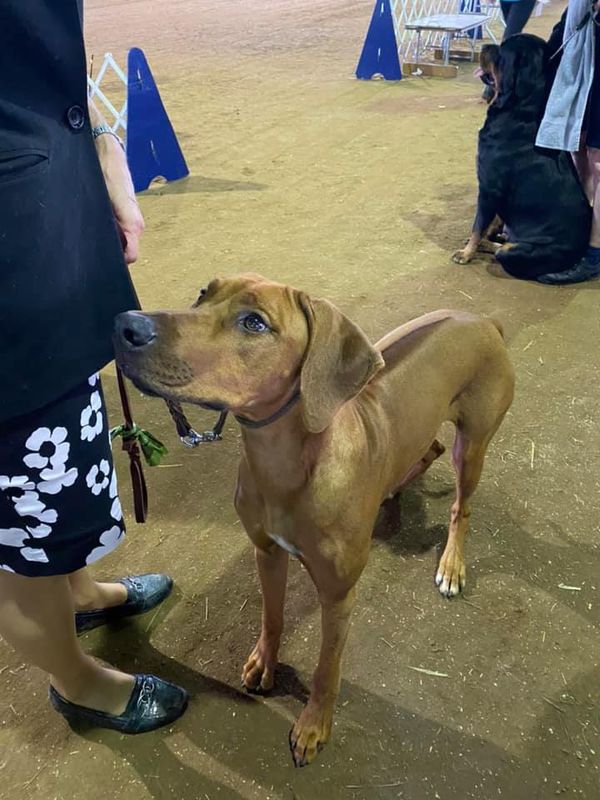 Rooney was Best of Breed Saturday and Sunday.  Deva (Hunter x Rooney) was Winner's Bitch on Sunday for her first 2 points.  So proud of Chris and Deva!
***********************************************************************
2020 was good to us.
Rooney ended the year as the #13 RR
She was a Group winning Ridgeback
Awarded a Reserve Best in Show
Our plans for 2021 are to get the last 35 points for her Grand Champion Gold and then retire her from the ring, showing her only at Regionals, Suppported Shows and the National Specialty.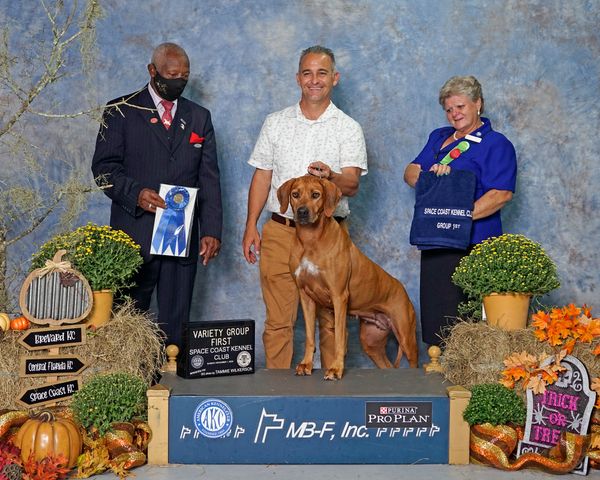 BROOKSVILLE CIRCUIT
JANUARY 20, 2021
Rooney was Best of Breed the one day we showed her during the 10 day Brooksville Circuit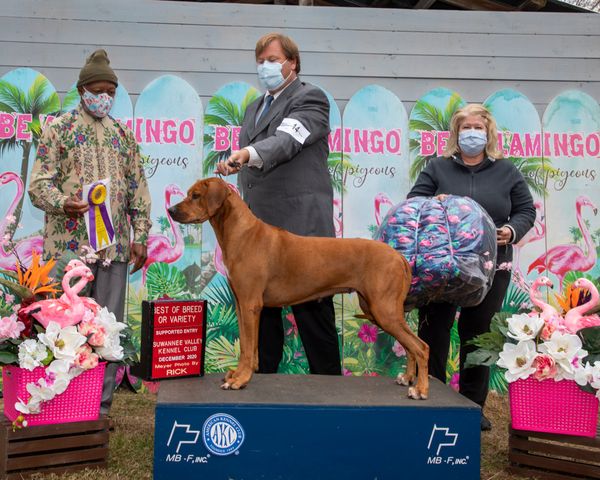 +++++++++++++++++++++++++++++++++=